It's been a long time since I last joined the Weekend Blog Follower Caravan. Since I ain't a bit sleepy yet, I decided to renew my "friendship" with WBFC. Though I have a not so hidden agenda because it's obvious that this blog is bare, therefore, I'm welcoming it here with open arms. I just hope that I can do this weekly so I can give back the favors to my online friends and new ones too.
Since only one blog is allowed per blogger, I'm pushing this one first, the rest of the blogs can wait 🙂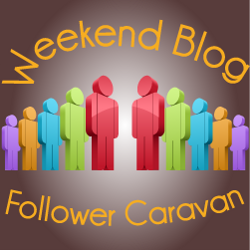 So, welcome WBFC joiners! I hope you can join me and my blog in Google Friend Connect. It's located in the sidebar, just click JOIN.
This week's task: Google Friend Connect
Make a blog post with our WBFC Badge to welcome all our participants. Grab the codes HERE. Make sure your blog post has dofollow links to this week's sponsors: Chika Bits and Dens Online.
Submit your blog post to our linky tool here. Not your homepage URL.
Visit other participating blogs and leave a comment at our fellow participants' welcome post that you have followed them thru Google Friend Connect.
Again, follow all participants thru Google Friend Connect!!
Please a leave a comment here if you have done it so I can follow you back 🙂
Weekend Blog Follower Caravan is a simple online blogger-helping-blogger weekly meme. It was designed for bloggers to help each other in terms of blog followers either through Google Friend Connect and email subscribers.
Please do it now so you won't forget me 🙂 TIA
Update: October 25th
I'm having trouble commenting on Blogger/Blogspot blogs. If I can't comment, rest assured that I followed you back 🙂
Hits: 7